Smoke, Lexus RC F GT3 Placed Ninth at Rolex 24 Hours of Daytona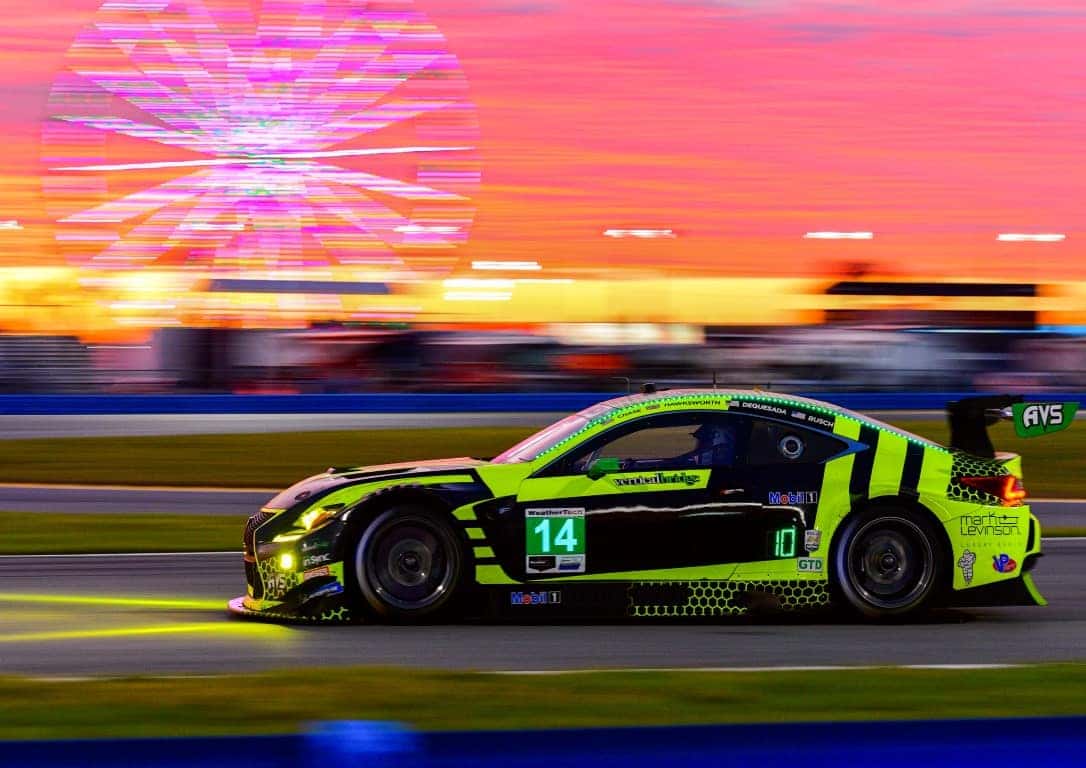 The Rolex 24 Hours of Daytona began with the two AIM Vasser Sullivan Lexus RC F GT3 race cars on the grid. The next 24 hours would be hard fought. Both number 14 and 15 RC F GT3s set off into the combined big tri-oval and interior road course all through the night.
Then came hour five, when Smoke jumped behind the wheel of the number 14 RC F GT3. As we said, Kyle Busch is no stranger to Daytona. The left turns were familiar, but he had a few right ones to make in the interior road course.
In the end, the number 14 RC F GT3 placed ninth in the GTD class with Busch, Jack Hawksworth, Parker Chase and Michael de Quesada behind the wheel. They were as high as sixth in the class, until an extended brake change put the number 14 RC F GT3 six laps down.
The number 12 Lexus visited the garage for repairs in hour 15 of the race after an on-track incident. Townsend Bell, Shane van Gisbergen, Frankie Montecalvo and Aaron Telitz split time behind the wheel of the number 12 RC F GT3. In the end, they would finish 12th in class, even as they were having a great race running as high as 2nd in class during the first 12 hours of the race.
The next stop on the IMSA WeatherTech Championship series is the old airfield known as Sebring. This legendary 12-hour race will be held on March 21. You can follow all of the racing action by connecting with Lexus Racing on Facebook, Instagram and Twitter and using #LexusRCF GT3, #LexusPerformance and #LexusRacing.
If you want to attend a race, the nearest one to Lexus of Las Vegas is on the streets of Long Beach on April 17-18. If you're a fan, make plans to root for your AIM Vasser Sullivan RC F GT3 right by the Pacific Ocean!
Want to fulfill your racing fantasy? Check out our inventory of RC Fs at Lexus of Las Vegas. Test drive one to see if you're ready to race – or cruise – in one.