The Leader in Luxury Hybrid Vehicles – Lexus

Introducing our cutting-edge hybrid line from Lexus
Lexus was one of the first luxury automotive brands to introduce Hybrids to its lineup. Today, it is the premier brand for Hybrids in luxury vehicles.
A Hybrid system works with two power sources: A gasoline engine and an electric motor. These two motors switch to one another depending on the speed of the vehicle and the pressure on the throttle. A hybrid starts off with the electric motor until it gets up to speed when the gasoline engine kicks in. This cuts down emissions at idle and at lower speeds. The electric motor is fed from a battery pack, which can regain energy from braking. When the brake pedal is depressed, the battery is recharged. No need to plug the vehicle in for recharging, since the power from the brakes takes care of this action.
These drivelines are matched with an electronically controlled Continuously Variable Transmission with intelligence (ECVT-i). A CVT is better to manage the power from the electric motor, as well as the gasoline engine.
All Lexus Hybrids are certified as a Super Ultra Low Emissions Vehicle (SULEV). Driving on the electric motor alone puts out zero exhaust emissions. With an electric motor attached to a gasoline engine, total tailpipe output is cut dramatically for cleaner air outside.
To enhance the driving experience, each Lexus Hybrid features a Drive Mode selector knob that can switch from Eco to Sport, depending on the kind of driving being done. An EV mode is available for driving at low speeds using only battery power. Having drive modes available increases the flexibility of the driveline, to balance between when power is needed or when energy savings are important.
Another benefit of having a Hybrid is improved fuel economy over vehicles equipped with just a gasoline engine. With the electric motor operating at low speeds, it helps save energy from the gasoline engine to achieve these higher fuel consumption figures. These figures reflect using the gasoline engine to drive at highway speeds. In all, Lexus offers class-leading fuel economy for all of its vehicles.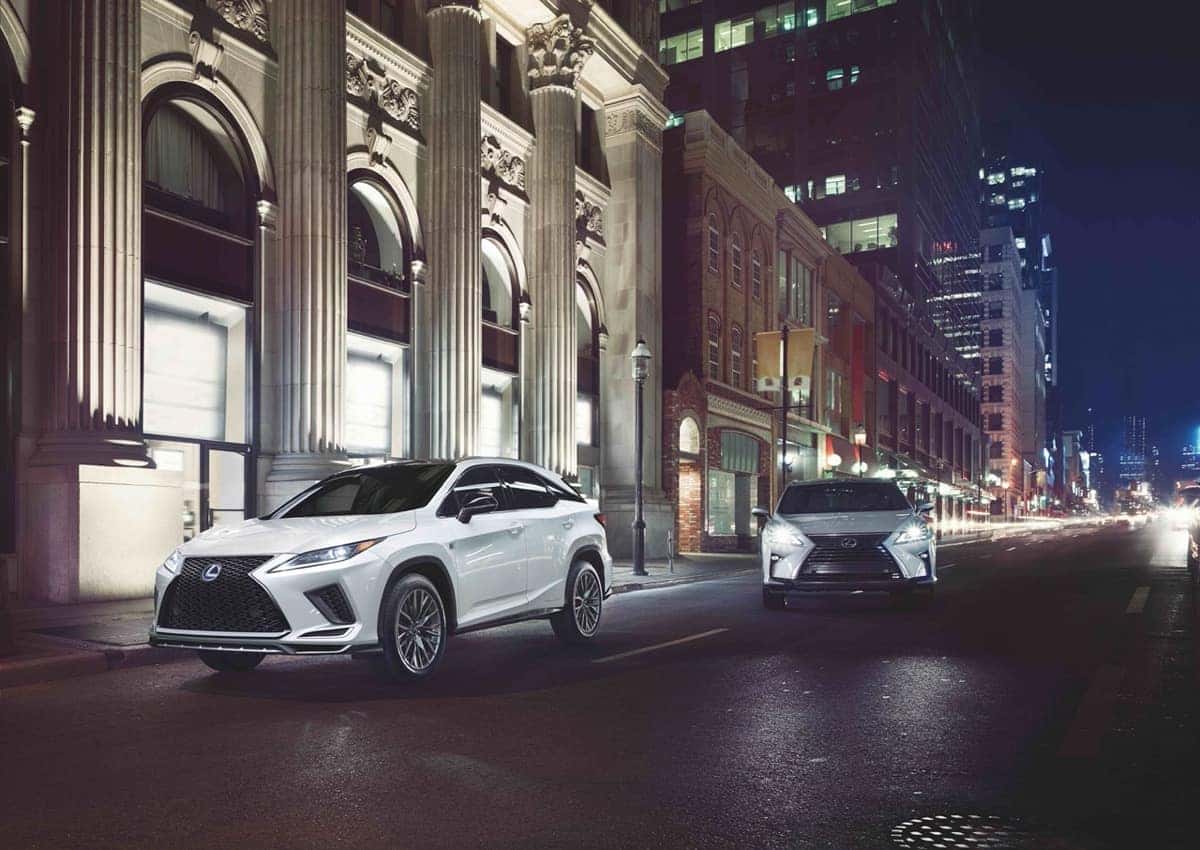 Across the Lexus lineup, three different engines have the added benefit of Lexus Hybrid Drive.
The UX 250h is powered by a 2.0-liter four-cylinder engine, putting out 181 horsepower through an all-wheel-drive system. This driveline can return a combined 39 MPG – best in its class.
The ES 300h and NX 300h runs with a 2.5-liter Atkinson Cycle four-cylinder. In the NX 300h, this system puts out 194 total system horsepower. The ES 300h is rated up to a combined 40 MPG.
The RX 450h, the LS 500h, and the LC 500h share a 3.5-liter V6. The RX 450h offers 308 total system horsepower, while the LS 500h raises that power to 354 total horsepower. The LS 500h and LC 500h are the first Lexus Hybrids to use a Multistage Hybrid driveline with permanent magnet multiple electric drive units. The RX 450h can get up to a combined 30 MPG.
Hybrids are just like any Lexus in the lineup. A few details make these Hybrid models different, such as the blue-hued Lexus oval, specific blue-hued badges, and a few differences in specific wheels, interior upholstery, and trim. For example, the ES 300h is available with environmentally-friendly NuLuxe upholstery and bamboo trim where real wood inlays would go. Other models also offer these and other environmentally-friendly cabin materials to match the vehicle's commitment to sustainability.
Lexus of Las Vegas knows that Hybrids are a part of our Las Vegas lifestyle. Please contact us to find out about availability. That is one way to know whether a Lexus Hybrid is the right choice.