Four Lexus SUV's on Most Fuel-Efficient Luxury SUVs List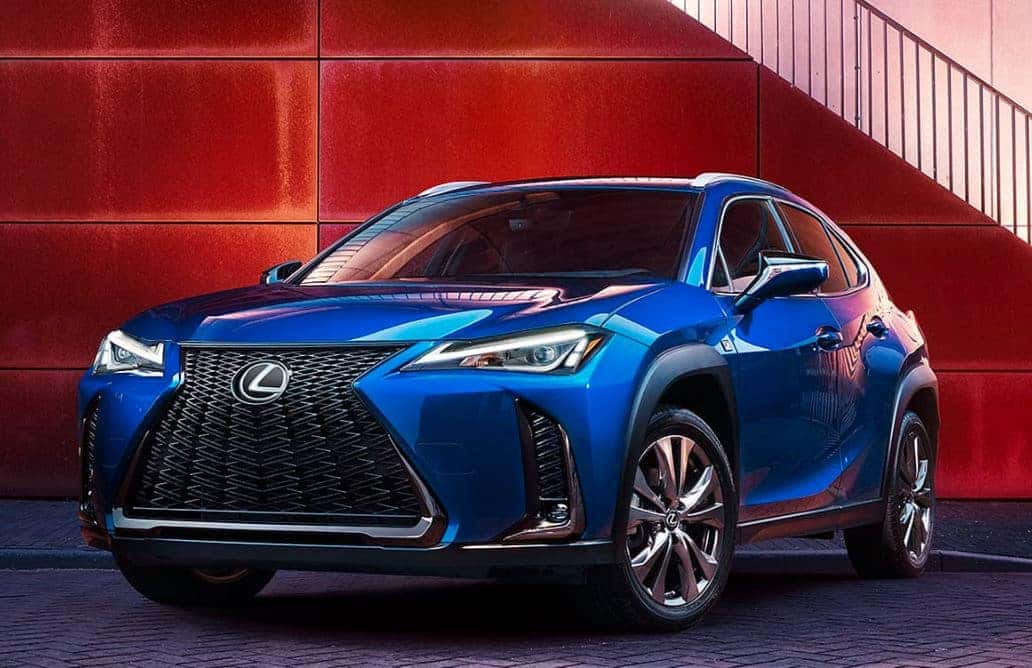 Four Lexus vehicles have been named to the Top 15 Most Fuel Efficient Luxury SUVs in 2020 list by U.S. News & World Report.  The models that received this honor are the Lexus UX, UX Hybrid, RX Hybrid, and NX Hybrid.  This achievement reflects Lexus' long dedication to excellence and cutting edge automotive technology.  Lexus engineers continue to pursue more fuel efficient luxury vehicles, while pleasing our discerning customers with superior performance, comfort and style. Lexus designs consider every aspect of the driver and passenger experience, down to the smallest details.  The article reflects these high standards, noting the safety, styling, and comfort of the Lexus SUV line. If you're looking for a luxury SUV that sips fuel rather than guzzles, that is built for quality and is a joy to drive, find out more about what makes Lexus SUVs so special. Let's meet our four winners:
The Lexus UX
The UX gets up to 37 miles per gallon on the highway. Reflecting the latest in automotive engineering, even the base model is chock-full of advanced technology and safety features. With four USB ports, wireless charging, and 8-way power-adjustable seats, the comfort is immediate from the moment you climb in. The five-passenger subcompact sports a 4-cylinder engine with 169 horsepower and 151 pounds-feet of torque.
The Lexus UX Hybrid
The Lexus UX Hybrid gets up to 41 miles per gallon in the city. This crossover offers the pep and versatility of a hatchback, but gives owners a little more room to spread out. At 181 horsepower, this SUV is designed to get you there faster. The SUV has a low center of gravity for excellent handling, and a durable body built for the long haul. Standard safety features on the UX include pedestrian detection, dynamic cruise control, lane-tracing assist, and lane-departure alert.
The Lexus NX Hybrid
The NX Hybrid is a compact crossover that gets up to 33 miles per gallon in the city. If you're searching for an SUV that's equal parts stylish and capable, the NX fits that description to a tee. The Hybrid model offers 194 horsepower, a spacious interior, and a top notch reliability score. All-wheel drive is standard, so you can head out to the mountains as easily as you can dash downtown. 
The Lexus RX Hybrid
The RX 450h and the RX 450hL are both powered by the V6 Lexus Hybrid Drive that can get up to 29 miles per gallon in the city. If you're looking for all-weather drive, the RX 450h features an Adaptive Variable Suspension that adjusts the dampers on the shocks to match road conditions. The RX 450hL comes with three rows, seating up to seven. And even with that extra space, you still get instant torque for that much more fun on the road. 
Lexus of Las Vegas Has Your Next Luxury SUV in Stock
Lexus never gives up on the pursuit of excellence in its vehicles. Lexus engineering continues to refine the standards of vehicle quality and excellence, delivering the performance, advanced features, extreme comfort and fuel efficiency our customers want.  Experience the luxury of a Lexus SUV. Find yours at Lexus of Las Vegas where you can try out our latest models for yourself.
If you're looking for a luxury SUV, at Lexus of Las Vegas we have many great vehicles right here to choose from. Find yours online and enjoy a touch-free sales and delivery process, or stop by our dealership for a closer look.