The Benefits of Buying a Pre-Owned Vehicle with Lexus of Las Vegas – Lexus of Las Vegas
Why buy Pre-Owned with Lexus of Las Vegas?
By purchasing a vehicle with Lexus of Las Vegas, you're joining a family of millions of car buyers but you still get the one on one experience.  Lexus of Las Vegas is there to help you through the buying process, from beginning to end and everything after.  We want you to get a top of the line experience, long after you've purchased your vehicle so you get the most out of your family vehicle.

Lexus L/Certified  has been named Best CPO Program by U.S. News & World Report for the 5th year in a row.  While Certified Pre-Owned programs can vary from manufacturer to manufacturer, Lexus has always held their vehicles to a higher standard.  Each vehicle is subjected to a 161-point inspection and quality check.  The vehicles have to meet these stringent requirements to receive the label of L/Certified. 
What Warranties are available for L/Certified and Pre-Owned vehicles through Lexus of Las Vegas?
L/Certified vehicles come with an unlimited-mileage warranty for up to 6 years.  They also offer the balance of a new car warranty of 4 years or 50,000 miles.  Because they are certified by Lexus, they include an additional 2 Year/Unlimited-mileage L/Certified Warranty.  As if that wasn't appealing enough, Lexus of Las Vegas also offers a Complimentary Maintenance Plan covering the first four basic factory-scheduled maintenance services for 2 years or 20,000 Miles.
Am I going to be treated differently because I'm buying a Pre-Owned vehicle?
Not at all!  Whether you're buying new or used, you'll receive our best sales advice and most attentive customer service.  We want you to be satisfied and proud of your vehicle and we will help you through the process to make it as easy as possible for you, no matter what.
What about financing?  That's always the worst part, right?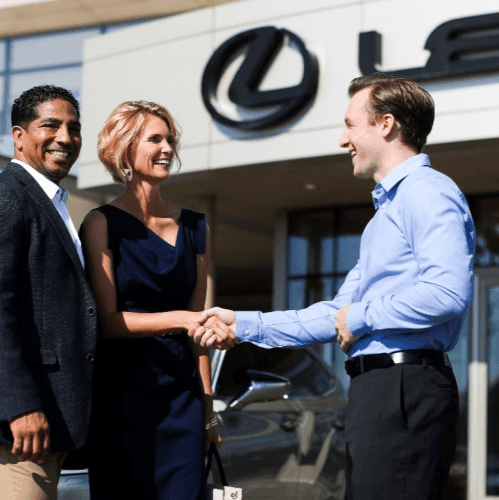 Not with Lexus of Las Vegas.  Our knowledgeable Finance Department Employees are here to help with all of the ins and outs of financing your vehicle.  
It begins in the buying process.  We've done all of the research on every vehicle in our inventory and made sure to price our vehicles at their most accurate market value.  This way, you know you're getting our fairest and lowest price.  No haggle necessary!  
The next step is our Finance Department.  We have the most knowledgeable Finance Staff to help with the ins and outs of financing your vehicle.  They are happy to help with the qualifying process and get you the best rates possible so that you can be on your way.  Have a Trade?  We can help with that too.
Come Experience Amazing with a Pre-Owned vehicle at Lexus of Las Vegas.