Las Vegas Will Host Formula 1 Grand Prix in November 2023

When you think of fun and exciting cities in the world, Las Vegas has to be at the top of the list. The glitz and glamor are legendary; the entertainment is unparalleled, and the Las Vegas Strip is simply iconic. Now, imagine all of this, but with incredibly fast cars being driven around town by the best drivers in the world today. Introducing the F1 Las Vegas Grand Prix. That's right, Las Vegas will host the Formula 1 Grand Prix in November 2023! We have everything you need to know about this historic event, so keep on reading to learn more!
Everything you need to know about the 2023 Las Vegas Grand Prix
On November 18, 2023, history will be made in Las Vegas, Nevada. For only the fourth time ever in franchise history, the F1 Grand Prix will take place on a Saturday night, making the most of our beautiful city's lights. Let that sink in; a world-class racing event will be happening on a Saturday night in Las Vegas, with professionals driving around the strip at top speeds. Just imagine the energy that will be coursing through the city that night. Speaking of courses, here's the map for the F1 Las Vegas Grand Prix.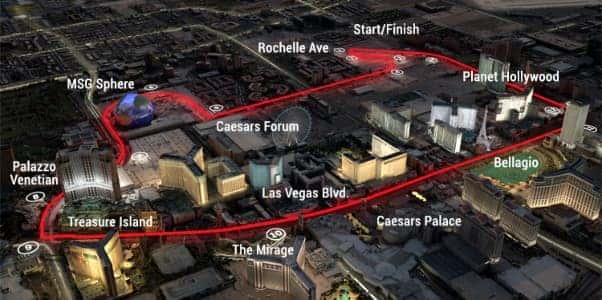 As you can see, the F1 contestants will be racing directly throughout the heart of Las Vegas, passing iconic landmarks like the Bellagio, Caesars Palace, Planet Hollywood, and many more. During the longest stretch of the course, drivers are expected to reach speeds of over 205 mph! As if that wasn't enough, the sheer noise volumes will be off-the-wall ridiculous, as the acoustics of the city will likely amplify everything, bounce the loudness back and forth between buildings, and eventually create the loudest night in the history of Las Vegas. Again, let that sink in; this is truly a once-in-a-lifetime event. Whatever you do, do not miss the F1 Las Vegas Grand Prix.
Now that you've learned everything you need to know about the F1 Las Vegas Grand Prix, what's next? Maybe a test drive in one of our sporty new Lexus models? Or maybe your car needs to make a pit stop for some service? Either way, contact our team at Lexus of Las Vegas today and we'll be happy to help you in any way we can! We hope to hear from you soon.
Happy driving!